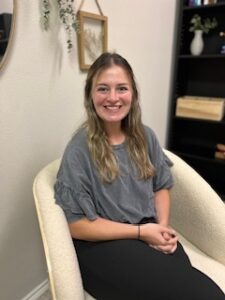 Hannah is a Licensed Marriage and Family Therapist Associate. Her passion is to build trusting and safe relationships with her clients. She believes that through this relationship, individuals and families can gain the resources needed to establish and meet goals.
Hannah uses scripture along with evidence-based therapy approaches to facilitate growth and healing. She explores the impact that family history, current relationships, spirituality, and other life factors have on the overall well being of a person.
Hannah provides counseling for individual adults, teenagers, children, and families. Her desire is to restore relationships between and bring wholeness to families.
She receive a Master's of Arts in Marriage, Family, and Child Counseling from the University of Mary Hardin-Baylor.
Outside of counseling, Hannah enjoys hiking, reading, playing sports, and spending time with friends and family.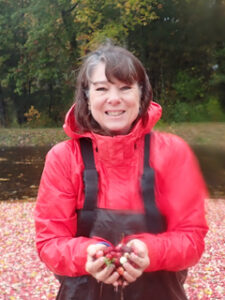 Denise and her husband, Greg, have lived in Granbury since 1985. They have four grown children, one son in law, one adopted adult daughter and her husband and five grandchildren. Denise's church membership is currently with Stonewater Church Granbury. 
Denise graduated in December, 2004 from Southwestern Baptist Theological Seminary with a PhD in Psychology and Counseling and a minor in Christian Education. In May, 2000, Denise graduated from the same seminary with a Master of Arts in Marriage and Family Counseling and a Master of Arts in Christian Education. While in seminary, Denise pursued a school counseling certificate with Tarleton State University and was trained in critical incident stress debriefing. Prior to seminary, Denise attended State University of New York at Albany where she earned a Bachelor of Science in Distributive Education. In addition, Denise attended Richmont University as an Institute in Sexual Wholeness student where she underwent extensive coursework and supervision under Vanessa Snyder, Ph.D., and Doug Rosenau, Ph.D., to attain her certification as a certified sex therapist.  Lastly, Denise completed an advanced trauma certification with Trauma Support Services to aide in her work with trauma survivors. 
Denise desires to provide Christian Counseling to persons in our community and surrounding areas. The therapeutic approach she uses in counseling tends to be eclectic drawing from many different schools of psychological thought; however, her dominant approach is cognitive behavioral. This theoretical orientation focuses on helping the client replace "wrong" patterns of thinking with the truth utilizing such techniques as bibliotherapy, talk therapy, video therapy, sand tray and mapping of thought patterns. As a Christian counselor, she relies on the Holy Spirit for guidance, intercedes for her clients in prayer, and encourages clients to use the truth of Scripture as the replacement for faulty patterns of thought unless the client requests otherwise. 
Denise was a stay at home mother for fifteen years before going back to school. She has been on staff as a counselor at Brazos Covenant Ministries since June, 2000 and serves as the counseling team lead. In addition, Denise worked in public education for 21 years. Eighteen of those years were in a school counselor capacity serving students in Pre-Kindergarten through high school before retiring in 2019. 
Denise works with clients ages 4 and up. She has experience working with clients in the areas of anxiety, depression, trauma, grief, family, marriage, domestic violence, stress and burnout, attention issues, post traumatic stress disorder, dissociative identity disorder, schizophrenia, bi-polar disorder, obsessive compulsive disorder, borderline personality disorder, sexual desire, sexual trauma, sexual addiction, impotence and premature ejaculation among others. Denise strives to keep her educational experiences varied to meet the vast needs of her clientele always exceeding the required education required by the state. 
Denise is a licensed professional counselor, an approved supervisor for LPC associates, a certified school counselor Pre-k through 12 and a certified sex therapist. She is available for counseling by appointment, and offers individual appointments to children, adolescents, and adults, pre-marital and marital counseling, and family counseling. Appointments can be scheduled by calling the church office at 817-579-0968. 
In her spare time, Denise loves visiting with family and friends, crafting, sewing, quilting, painting, cooking, watching movies, reading, traveling and studying God's word.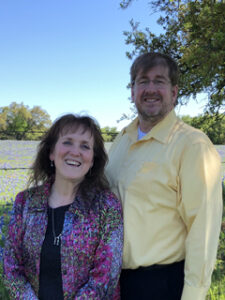 Teddy Roosevelt once said, "People don't care how much you know until they know how much you care." Well, if you want to know how much I care the person to ask is the one in the picture beside me: my bride, Kristi who has stood beside me for more than 40 years!  Sure, I have a resume of my accomplishments, but if you're looking for a counselor . . . look for one who cares.  In the 35 plus years I've been in ministry rarely does anyone look at all the licenses and degrees hanging on the wall as a first order of business, they look in my eyes to see what's there.  In short, I care, and I can and want to help!
For those who have read this far and care about the curriculum vitae; here it is: I'm a former law enforcement officer and business owner who also has a certification in automotive alignment and steering systems.  I have a bachelor's degree in marketing and distribution from Tarleton State University, a Master of Arts in Marriage and Family Counseling, and a Master of Arts in Christian Education. I did graduate study at the University of Oxford, and I hold a license as a Professional Counselor (LPC) in the State of Texas. I have 35+ years of ministry experience and 10 years of experience in a local hospital doing mental health treatment and consultation.
For fun I love astronomy, ballistics, research, farming, piano, bass, computers, travel, mechanics, debate, and most of all Jesus and Kristi!
Rev. C. Jeffrey Bise, LPC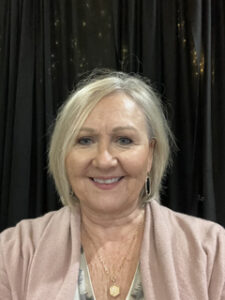 As a Licensed Professional Counselor, Rhonda's focus is on  building strong relationships with her clients by providing a  warm and trusting environment. She believes with the right  tools and support, every client can be reminded of their  unique strengths and experience growth to meet their  individual goals.  
She uses biblical truth along with research-based counseling  methods that lead to restoring wholeness. She explores the  influence of relationships, spirituality, thought patterns,  nutrition, and physical health on mental health experiences.  
She provides individual, marriage, parenting, and family  counseling and therapy. Her current clientele remains broad  as she serves children, teens, adults, and families. Her  passion is in restoring play for all ages.  
She received a Master of Arts in Counseling from Dallas  Baptist University.  
Outside of counseling, Rhonda loves trying new recipes,  traveling and hiking with her husband Barry and her children  and grandchildren. She enjoys playing the piano, reading,  and serving in the children's ministry at Christ Chapel  Granbury.
Join us this Sunday
at 10:30am
1950 Acton Highway
Mailing: PO BOX 7150
Grandbury, TX 76049
817.579.0968
Request more info
Thank you, please fill out the form and we'll get back with you.
We'll talk soon!
Use the PayPal button to give
Looking forward to seeing you!
Sunday 10:30